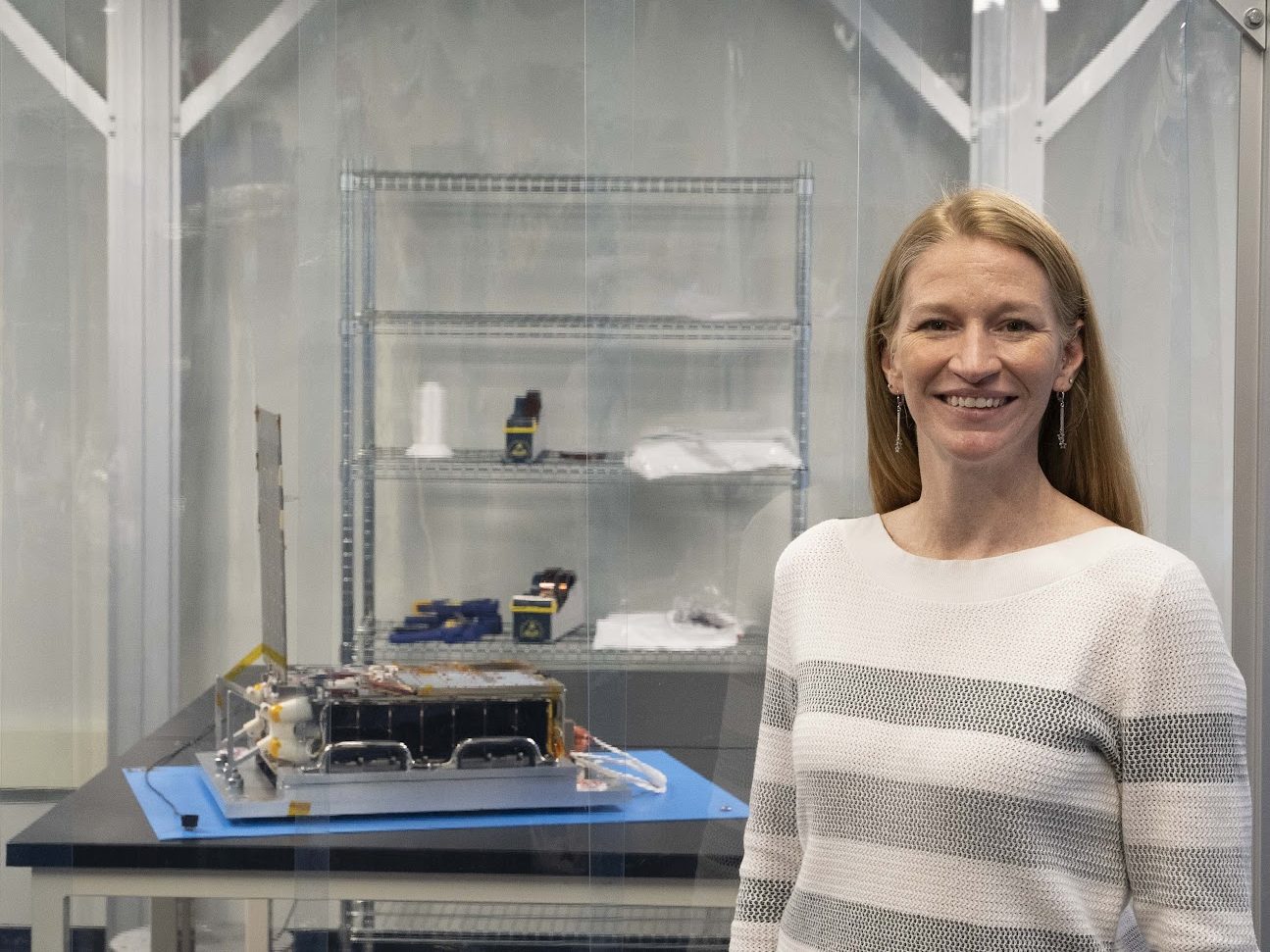 My latest CubeSat project, Lunar Flashlight, is on its way to the Moon! As the name suggests, Lunar Flashlight will "illuminate" permanently shadowed craters of the Moon using a laser instrument to search for water ice. The journey to the Moon will take four months, and then the real excitement begins as the toaster oven-sized satellite orbits the Moon and sends back laser measurements that could one day be used for human habitation on or near the lunar surface.
One way or another, I have been involved in CubeSat missions throughout my career at JPL. I find the fast-pace, small teams, and unique challenges of these miniature satellite missions very rewarding, and you can read more about two of my other CubeSat missions, RainCube and MarCO, in previous blog posts. Shortly after my work on RainCube concluded in 2021, Lunar Flashlight was coincidentally beginning their satellite assembly and testing phase at my alma mater, Georgia Tech. Even though my main role at JPL is currently the Group Supervisor of the Environmental Test Lab where we test all JPL hardware (large and small) under the extreme conditions of launch and space, I couldn't resist contributing to another CubeSat mission and collaborating with my graduate university.
My role on the Lunar Flashlight project was to coordinate the teams at JPL, Georgia Tech, Marshall Space Flight Center, and Maverick (launch integrator) to complete the satellite assembly and test phase, verify the satellite was working as needed for the mission, and finally deliver for launch onboard a SpaceX Falcon 9 rocket. After several months of hard work, a few launch delays, and tremendous dedication from the teams, which included exceptional students from Georgia Tech who were juggling their full class schedule and deadlines while working on the project, the Lunar Flashlight satellite was fully assembled, tested, fueled, and ready for launch in October 2022. Georgia Tech's press release, A Mission To The Moon, has a great summary of the completed work and preparations for mission operations.
Most CubeSats rely on ridesharing to significantly reduce launch costs, and Lunar Flashlight was piggy-backing on the iSpace Hakuto-R Mission 1 launch, which was slated for November 30th from Cape Canaveral, Florida. I took advantage of the proximity to the Thanksgiving holiday to visit my family in Jacksonville and then headed down to the Space Coast to watch the launch. To my surprise, when visiting the launch pad less than 24 hours before T-0 with some colleagues, there was one vital piece missing – the rocket! I learned that Falcon 9 rockets launched from this pad are integrated and transported horizontally, and then they are rotated 90-degrees to the launch position at the pad. I also learned this operation is done only hours before the launch window, and the rocket is fueled less than an hour before launch, which is a much more condensed timeline compared to other launches. We decided to come back a few hours later, and this time we got to see the rocket and the operations to get it into position for launch. Some pictures from this adventure are below.
Unfortunately the launch was postponed due to technical issues observed later that evening, and I returned home to southern California. Rocket launches are often scrubbed as a number of technical variables and weather conditions must be (near) perfect to ensure a successful journey to space. Fortunately, the technical issues were resolved a few days later, and Lunar Flashlight successfully launched in the wee hours of December 11th. I watched the live feed from home, and then I anxiously awaited news from the operations team to confirm first contact with the satellite, which came a few hours later. Lunar Flashlight is now on its way to the Moon, and you can see the satellite's current position in space and follow the mission at NASA's website.
Although I didn't get to see the launch in person, my trip to Florida was full of memorable moments. I saw the rocket carrying Lunar Flashlight on the launch pad, I visited the NASA Kennedy Space Center Visitor Complex for the first time (which included a CubeSat exhibit that mentions MarCO!), and I got to spend Thanksgiving with my family in Jacksonville for the first time since I moved to California nearly 12 years ago.
Fun Fact #1: I was a consultant for a kids' video game that JPL released earlier this year called CubeSat Builder, and it is adorable. The goal of the game is to introduce kids to CubeSats and the different components that are part of every satellite, and the premise is based on the popular Overcooked game where there is an allotted time to collect all the ingredients (i.e. components) and complete the recipes (i.e. assemblies and tests) as instructed.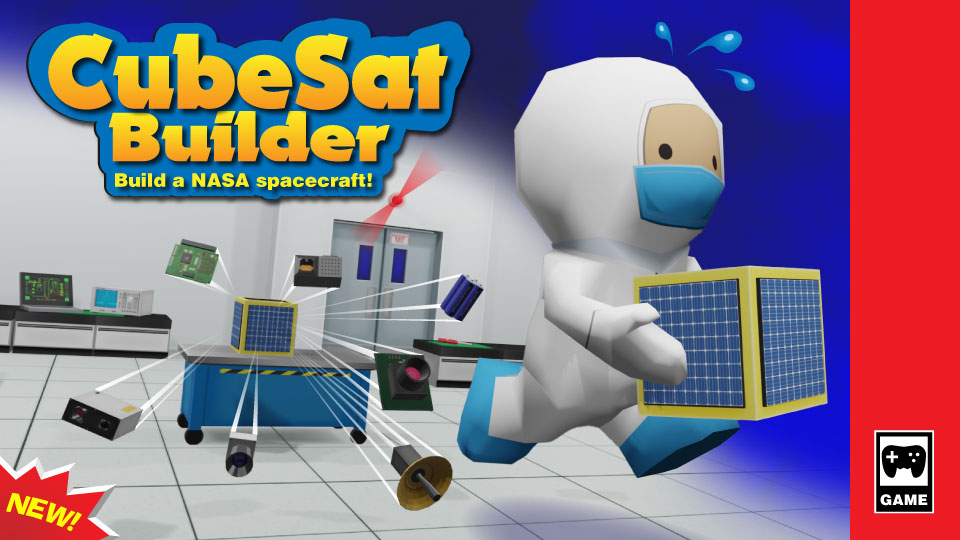 Fun Fact #2: While visiting my family over Thanksgiving, my younger sister gifted me an early Christmas present – a shawl she crocheted (and practically reversed engineered from scratch) that was modeled after the one worn by Jennifer Lawrence in The Hunger Games: Catching Fire movie. Of course, this called for another photo shoot with my husband. ;‌)
Fun Fact #3: Last one, I promise! History was made this year at JPL when Dr. Laurie Leshin became the Lab's first female Director. Needless to say, people were very excited when the announcement was made a few months before she started, and an extracurricular project began almost immediately to build a Dr. Leshin Welcome Quilt. The project was very successful, and I got a picture with Dr. Leshin and my contribution the day we gifted her the quilt. The icing(s) on the cake is that the quilt is now hanging in her office at JPL and it was part of the JPL holiday card this year. :‌)